Dr David Rock from the NeuroLeadership Institute is set to deliver a keynote address at the 2021 IPAA National Conference this October.
Neuroleadership has come into the spotlight in recent years, with Dr Rock, in fact, coining the term 'Neuroleadership' in recognition that a more concrete, science-based approach to growing soft skills would not just resonate with organisational leaders but also make any change initiative more effective.
Applying Neuroleadership Approaches to 'Ride the Wave of Transformation'
The theme of this year's National Conference 'Riding the Wave of Transformation' will reflect upon the opportunities and changes we have faced as a public service in recent times, and what the future might look like. Neuroleadership approaches to leadership can provide us with new ways to build a positive culture in the workplace that enhances performance and outcomes by understanding the innate psychological principles influencing the behaviour and responses of staff.
In this article 'How you can apply Neuroleadership to manage others' we explore the key principles of neuroleadership at a glance. As a topic that many of us might have encountered at only a cursory level, it's important to understand how this area of leadership development can help you in leading teams or organisations that are engaged, satisfied, productive and motivated. The vital principle of the 'threat – reward' response illustrated below highlights the positive outcomes of environments that put our brains in the reward state, and in turn, the adverse effects of perceived threats in the environment.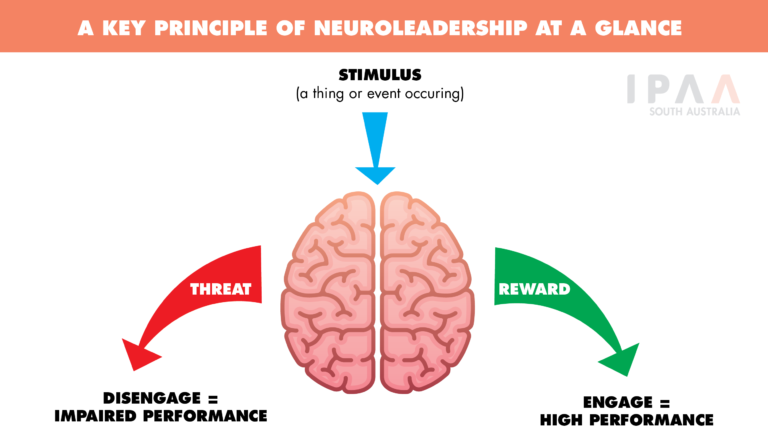 Where can I learn more about Neuroleadership?
You can take the next steps in applying neuroleadership principles to your leadership style with several opportunities coming up…
Neuroleadership  (half-day intensive professional development course) – 23 May
More About Dr David Rock
The NeuroLeadership Institute is now a 23-year-old cognitive science consultancy that has advised more than 50% of the Fortune 100. With operations in 24 countries, the Institute brings neuroscientists and leadership experts together to make organisations better for humans through science. David has a professional doctorate in the Neuroscience of Leadership, and is the author of four books including Your Brain at Work, a business-bestseller. He has written for and been quoted in hundreds of articles about leadership, organizational effectiveness, and the brain which can be found in Harvard Business Review, The New York Times, The Wall Street Journal, Business Insider, CNBC, Forbes, Fortune, Inc., USA Today, BBC, The Boston Globe and more.